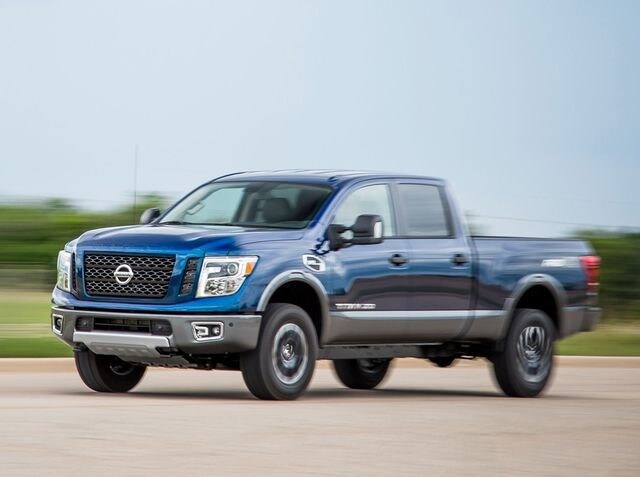 Whether you run a construction company or a delivery company, operate a corporate office, or something else, it's essential to have the right fleet vehicles. You need to maximize affordability and reliability without sacrificing comfort or performance. Your fleet is an investment, and you want to ensure that you get the best return on it. The Nissan Titan, Titan XD, and the Nissan NV can all be excellent additions.
Nissan Titan and Titan XD
The Nissan Titan is a well-regarded pickup truck that is suitable for light-duty towing, hauling, and other work-related needs. The base model offers seating for three and provides a rear-wheel-drive format, but it can be configured with seating for up to six; there is a four-wheel-drive option available, too. The only available engine option is a 5.6-liter V8 that puts out 400 horsepower and 413 pound-feet of torque. The current Titan model also uses a nine-speed automatic transmission and can tow up to 9,660 pounds. However, the most common work configuration is the base S model with a single cab (seating for three).
The Nissan Titan XD is the heavier-duty, bigger brother of the regular Titan. The current Titan XD model features a 5.6-liter V8 engine with 390 horsepower and 394 pound-feet of torque. However, there is a heavier duty diesel engine on offer that those with serious towing needs will want to consider. It's a 5.0-liter Cummins diesel that puts out 310 horsepower and 555 pound-feet of torque. It offers a maximum towing capacity of 13,760 pounds (the gas engine pulls about 1,000 pounds less).
Nissan NV Models
The Nissan NV is a van designed specifically for business use and work needs. For companies that are concerned about buying American, the NV is assembled in Mississippi (as is the Titan). It's a rear-wheel-drive van with both gas and diesel engines available. It also offers a few additional niceties that can make it a more comfortable vehicle for your fleet, including a seven-inch touchscreen infotainment system, USB ports, Bluetooth connectivity, and more. The cargo version of the NV can also be equipped with the Backdoor Glass package for both the S and SV V8 engine models.
Business buyers can choose between two engines - a 4.0-liter V6 and a 5.6-liter V8. Both are gas, and there is no diesel option on offer here. The smaller V6 offers 261 horsepower and 281 pound-feet of torque, while the V8 delivers 375 horsepower and 387 pound-feet of torque. For those who have significant towing and hauling needs, the V8 is the better option. For those who need to carry people, the V6 is a good choice.
Trim levels on offer start with the base S model, then move to the 3500 S, the 1500 SV, the 2500 SV, the 2500 SL, the 3500 SV, the 3500 SL, the 3500 S Passenger, the 3500 SV Passenger, and finally the 3500 SL Passenger.
The Ultimate Work Trucks
Nissan's fleet of work trucks has your business covered. These are the work vehicles you need regardless of the business you run - they get the job done! Test drive a Nissan Titan, Titan XD, or Nissan NV today to see which is best for your needs.